Let's take a look how the market share for the most common Desktop Operating System, Microsoft Windows, looks like (as of July 2013).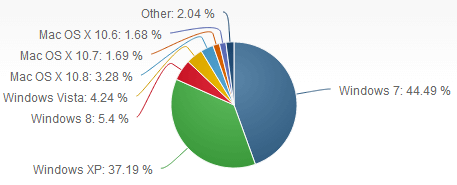 From an enterprise perspective, the end of support for Windows XP SP3 and Office 2003 (ending April 8, 2014) has led to a rapid growth of IT Professionals. The main task: migrate computers and server infrastructures into the new enterprise operating systems that Microsoft has to offer. Microsoft XP has, according to many users, finally become "stable" from the thousands of security patches, and the three major Service Packs that were released throughout the past 13 years that the operating version has been out in the market. And with 37,19% market share (as of July 2013, according to NetMarketShare), it doesn't seem that XP users are rushing to upgrade to Windows 7, nor Windows 8.
The meaning of "End of Support"
Microsoft describes it as:
Every Windows product has a lifecycle. The lifecycle begins when a product is released and ends when it's no longer supported or sold. Knowing key dates in this lifecycle helps you make informed decisions about when to upgrade or make other changes to your software.
You might be wondering, what a typical product lifecycle would be for Microsoft's Operating Systems. The table below refers to the End of Support, which in turn refers to the date when Microsoft no longer will provide your company with security patches and automatic fixes, nor will they offer any type of technical support, should the software crash, burn or derail.
| Operating System | End of mainstream Support | End of Extended Support |
| --- | --- | --- |
| Windows XP | April 14, 2009 | April 8, 2014 |
| Windows Vista | April 10, 2012 | April 11, 2017 |
| Windows 7 | January 13, 2015 | January 14, 2020 |
| Windows 8 | January 9, 2018 | January 10, 2023 |
Now, you may have noticed that one column says 'End of mainstream support', and another 'End of extended support'. These two fine printed agreements are easily overlooked, hence the desperate "last minute" calls many small- to mid-size companies make to IT Service companies, similar to ScientiaTech. Mainstream support is the support that Microsoft offer for a minimum of 5 years from the date of a product's general availability, or for 2 years after the successor product is released, whichever is longer. Extended support is an additional extended support model with either a minimum of 5 years from the date of a product's general availability, or for 2 years after the second successor product is released, whichever is longer. This means that you will have an extension to your support needs, up to two versions later of the operating system.
Microsoft has, as a rule of thumb, a minimum of 10 years of support for the Business and Developer products, which covers the software products including Windows XP, Windows Vista and so forth. All of these policies are outlined in the Support Lifecycle Policy.
What should you do?
Microsoft's End of Support means that you should take action and start thinking about migration to new software. There will not be any further security updates and hotfixes for Windows XP, which means that the system is exposed to potential security risks as well as lack of software vendor support.
Whether you are an Enterprise Customer or a Small to Medium Business, there will be a range of tools that will enable better productivity and collaboration in your organization.